Scratch Golf Tour Department – Behind The Scenes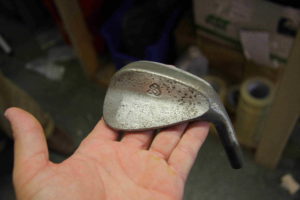 Scratch golf was founded in 2003 by Ari Techner, and in recent years their wedges have become some of the most sought after by touring pros and amateurs. Several players on the PGA, Champions and LPGA Tours are using Scratch wedges and most are doing so without endorsements. By the end of 2007 Scratch wedges were the number one wedge on the Nationwide Tour. Last year PGA Tour rising star Ryan Moore switched to Scratch irons and wedges the week after the final FedEx Cup tournament and now owns part of the fast growing company. Scratch Golf still makes most of its wedges one at a time, grinding them to the desired shape by hand. Scratch Golf employs two of the best grinders in golf – Jeff McCoy and Don White. Mr. White joined Scratch in January of 2010 and brings with him almost 40 years of club design experience. He has personally hand ground irons for players winning 14 major championships while at MacGregor golf, including Jack Nicklaus, Greg Norman, and many of the game's greats. Scratch Golf has managed to combine classic workmanship and materials with modern design and fitting methods better than any other golf company. The result is a line of clubs that are highly customizable and perform brilliantly.
I had a chance to visit Scratch Golf's Tour Department in Chattanooga Tennessee recently. They have a small shop in an old industrial part of town that is being remodeled. Patrick Boyd, VP of Custom Sales and Director of Tour Department Operations gave me a tour of the facilities. The tour department turns out about 8 clubs per day, working with various professionals and amateurs who custom order wedges. Each raw wedge head is hand ground, finished, stamped and shafted according to the player's need.
Scratch Golf offers wedges in two different metals – 1018 forged carbon steel and 8620 milled carbon steel. The 1018 carbon steel is regarded as the softest metal currently used in golf today, and the 8620 carbon steel is CNC milled to ensure a perfectly flat face. Scratch also offers many custom grind options based on three basic swing types:
Digger / Driver: Players in this swing profile tend to be very "steep and deep" with the club at impact. Their aggressive angle of attack causes the club head to dig into the ground requiring greater bounce angles to get the club head back out of the ground and maintain contact between the face and golf ball. Miss-hits for this profile are commonly fat.
Driver / Slider: This swing type encompasses a vast majority of golfers. These players will try and trap the ball between the clubface and ground, taking a shallow, even divot. Driver/Slider's moderate angle of attack requires a mid-bounce angle providing assistance in maintaining the club head's path through the turf and ensuring crisp, clean contact. Driver/Sliders tend to miss both thin and fat.

Sweeper/Slider: Often a favorite of course superintendents, Sweeper/Sliders have a very shallow angle of attack and take little to no divot at all. This swing profile requires a low bounce angle, which helps combat the thin miss-hit for Sweeper/Sliders.
Depending on your swing style, there are about 20 or so different grind options available. For those who are not familiar with what a grind is I'll try to explain in basic terms. The grind of a wedge is basically the shape of the sole area which comes in contact with the ground during a swing. The type of golf swing you have and the grind of a wedge affect its playability. For example, a player who tends to sweep the ball off the turf and take very shallow divots will have trouble making consistent contact with a wedge that has more bounce and a grind designed for players that take deep divots, like Scratch's XDG grind.
In order to make sense of all these swing types and grinds available, it takes a very knowledgeable club fitter like Patrick. We spent a little while on the range and chipping green at The Black Creek Club, home of the Nationide Tour's Chattanooga Classic. Patrick had me hit a few shots and observed the size and shape of my divots, as well as sound of impact to see if I was hitting solid shots. I started with half swing pitch shots and worked up to full swings, trying different grinds and head shapes. Moving on the the chipping area, I hit a few different grinds and immediately he could tell which grind was better suited for me. I could also tell, as a club with too much bounce was leading to inconsistent contact and bad results. We determined I would be best suited to the SLT grind in a 58 degree lob wedge. Amazingly, I was able to slide the club under the ball with ease, even on very tight lies. I felt like I could be very aggressive, knowing I would not hit the ball fat or bounce the club into the ball.
The great thing about this company is that the custom fitting experience is available to everyone, not just touring pros. If you can't make it to Chattanooga, they also have demo days nationwide following the PGA Tour event schedule. For more information and to schedule a custom fitting, just contact the Scratch Golf Tour Department! I can't wait to get my custom wedges. I think these will be the best I've ever hit. Of course, a review will be posted as soon as possible!
Scratch Golf's 8620 wedges carry an MSRP of $99. The 1018 wedges are $149 and the Tour Custom wedges are $349. Special thanks goes out to Patrick Boyd and the entire Scratch Golf Tour Department in Chattanooga for allowing us to take photos are share the Scratch Golf story!
Want to win free stuff? Subscribe to our email updates! You'll get the latest fresh news, reviews and stories delivered right to your inbox or RSS reader, and automatically be entered in our latest contests and giveaways! Also, don't forget to check in with our Facebook fan page for exclusive content and get involved by leaving us comments on what you think!