6 Last Minute Father's Day Gift Ideas
GolfTrainingAids.com
The company was founded in 1984 by PGA Master Professional Dr. Gary Wiren as a resource to provide training aids to teaching and touring professionals. The internet era has allowed GolfTrainingAids.com to expand and now offers the largest selection of golf teaching and training aids in the world. Serving the golf industry for over 35 years, they are the most knowledgeable one stop shop for all of your training needs.
GolfTraininaAids.com has something for everyone, including a product on this list – Golf Forever's Swing Trainer. Whatever you and your golf pro are trying to work on, there will be a tool that can help you feel the proper movement or help you get there. Just go to www.golftrainingaids.com and happy shopping!
Activated You – Morning Complete
Morning Complete is a powerful daily wellness drink featuring a custom-selected blend of nutrients designed to support regular digestive function, daily energy levels, and overall wellness. This delicious, apple cinnamon flavored drink is perfect for anyone who wants to start each day on a healthy note, and enjoy optimized health throughout their lives, thanks to the potent blend of nutrients included in each glass: *
Prebiotics are like the fertilizer for your microbiome. Without prebiotics, the probiotic bacteria that your gut relies on for regularity and wellbeing can't function.
Probiotics to replenish and nourish the naturally occuring good bacteria in your gut, for enhanced digestive function and overall health.
Energy nutrients from leafy greens — the kind of nutrients your system needs to help you sail through even the busiest days without energy crashes.
Plus, Morning Complete features five additional hand selected nutrient blends, designed to rev up your metabolism, keep your spirit lifted, help your body protect itself against oxidative stressors, support healthy liver and cellular functioning, and support healthy blood sugar levels already within the normal range.
*Individual results can and will vary.
Radmor Golf Apparel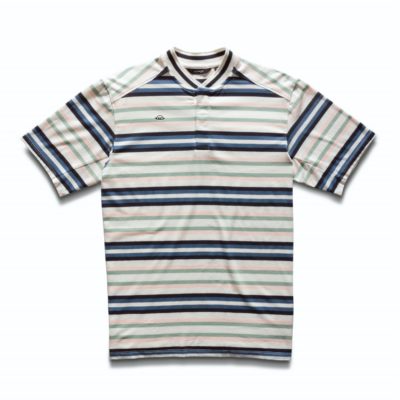 Most high-performance golf shirts these days are made with polyester. Polyester is made from polyethylene terephthalate (PET), the most common type of oil based plastic in the world. Polyester clothing takes decades, if not centuries to decompose in a landfill and is considered harmful to the environment. By comparison, cellulose fibers like cotton, lyocell, modal, bamboo, all breakdown in a fraction of the time and are considered regenerative for the environment.
Radmor Golf is the first brand in the golf industry to focus on the elimination of using "virgin" polyester on a garment level. They've also limited the amount of recycled ocean polyester and recycled nylon they use to less than 10% of the collection. The the vast majority of Radmor's garments are made from either BCI (Better Cotton Initiative) organic cotton or extra-long staple Pima cotton. It's more expensive, but it's stronger, lighter, and lasts longer than other cottons.
True Linkswear Shoes
I recently tried a pair of TRUE Linkwear's All Day Knit shoes and found them to be one of the most comfortable shoes I've ever worn. Good thing it just so happens to be a golf shoe that I can also wear to work, so they'll get a lot of use. TRUE Linkswear has a very nice selection of styles, colors and sizes, so jump over to truelinkswear.com and check them out! https://truelinkswear.com/collections/shop-all-footwear
Honma's TW Family
When Honma tradition meets modern tech, the result is TW757. With the world's first carbon-slot technology and a family of multi-material irons—TW757 delivers high speed, stability, spin control, and long-distance performance. Honma Golf isn't as well known in the US as some other brands, but they've been making some of the best quality golf clubs in the world for over 60 years. I have a set of their older forged cavity backs and would love to get my hands on a set of their latest offerings from the TW757 "Tour World" collection. There's not a better looking or performing forged iron available in my opinion. Take a look at the TW757 collection here and see for yourself, then schedule a fitting for the ultimate experience!
Golf Forever
GOLF FOREVER is the first digital program to bring together biomechanical and medical expertise with a customized program for your body. Our team of certified professionals will safely guide you every step of the way, giving you complete confidence every time you log in.
Whether you rarely exercise or work out on a daily basis, this program has been designed to help you play your best and feel your best, both on and off the course. As I get older, I have noticed my swing slowing down and as a result I'm losing distance. I signed up with Golf Forever to rebuild some of the strength I've lost and regain flexibility to remain competitive at golf well into my 50s, and for my overall fitness as well. It just helps me to know I'll be targeting my golf game specifically. The program has had some notable PGA Pros get on board too. Most notably Scotty Scheffler, the #1 ranked player in the world!
Take a look at what the program has to offer on their website – www.golfforever.com