Junior Golf Training With Scott Shepard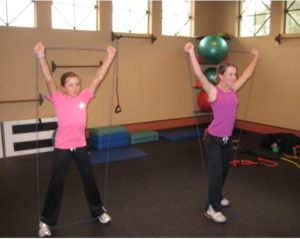 On any given weekend you can easily find several junior golf tournaments in areas throughout the country.  For many juniors, the tournaments are a way to exhibit their skill level with the hope of impressing collegiate coaches and scouts.  When I ask my junior clients what their golfing goals are, they almost always mention playing college golf and then hopefully becoming a professional golfer.  Research has shown that becoming a college or professional golfer is very rare and the odds are not in favor of the individual.
In order to maximize their chances, these juniors are seeking out instruction from swing coaches, short game specialists, equipment fitting specialists, sports psychologists and golf-fitness coaches.   Top junior golfers understand that they must physically prepare themselves for the next level in order to be competitive.  College golfers are expected to workout 4-5 days per week with the colleges' strength coach (usually the same guy that trains football players).  If the golfer has no workout experience before getting into college, they may struggle with golf performance due to rapid changes that will occur to their body as they are now training frequently.  For this and many other reasons, we are seeing a large number of junior golfers hitting the gyms.
When young children begin working out there are usually a lot of questions and concerns related to strength training.  Parents are concerned that working out may cause injury or affect growth patterns.   Usually this will never occur as long as the junior is working with a well educated, certified, responsible trainer (look for the one that is not having people flip tires or use sledgehammers).  I have clients that range in age from 8-80 and I believe that all age ranges are susceptible for injury while working out if the client or trainer is not aware of good mechanics and proper exercise progressions.  Age is not the issue.
When I begin working with a junior golfer, I first look for good mechanics with basic movements such as squats, lunges, push-ups, pull-ups, and core/rotational drills.  I train the clients progressively in this order, first clean-up movements, second build-up strength/stability, and third speed-up movements.  For example if I have a junior client that cannot perform one good push-up, I will not have them attempting other explosive pushing drills.  Seems logical, but you will see trainers doing all kinds of illogical moves with their clients in the name of intensity and mental toughness training.  As a Physical Therapist I recommend that juniors never sacrifice form, because if they do then the only thing they are increasing is chance for injury.  This is the difference between working out for an apparent change versus a lasting change as stated by famous sports trainer, Al Vermeil.
I also use some specific equipment that is excellent for juniors.  One piece of equipment that I use with every junior client is a special type of resistance band called S5 bands (S5bands.com).  These are thin, highly elastic exercise bands that can be used to provide resistance training for movements in any direction.  Makes sense for golfers because movement occurs in all three planes of motion (lateral, forward/back, and rotational).  The resistance level can be modified depending on how much stretch load they are subjected to and which level of band they are using.  I use them for golf-specific movements in order to reinforce movement patterns.    These products can be used anywhere so the clients can bring them on the range to warm-up the muscles as well.  I cannot think of a better training tool for athletes and if you have never used them, I recommend giving them a try.  You will be shocked at the level of intensity they can produce.  The bands I use are currently being used by top professional golfers including Trevor Immelman, Suzann Peterson, and my top LPGA player, 2006 LPGA rookie of the year, Seon Hwa Lee.  The photos you see are of two of my top junior female golfers, Sierra and Dree working on the bands.
I really enjoy using these with juniors due to the endless number of drills that can be performed.  This helps to keep the client interested in the workouts and constantly challenged with exercise progressions.  For the junior golfer, it is very important to begin working out and build that routine into their lives'.  It will help not only their golf game, but their overall health and well being.  Thanks for reading, good luck with your golf and fitness, and let me know if you need any help!
Scott Shepard MSPT, CSCS, TPI
Scott Shepard is based in Central Florida and has an office in Lake Mary, FL. For more information on Scott and his golf specific fitness and injury rehabilitation programs please visit www.planeperformance.com or contact him at 407-222-7489.
Check out Scott's other great articles here:
Want to win free stuff? Subscribe to our email updates! You'll get the latest fresh news, reviews and stories delivered right to your inbox or RSS reader, and automatically be entered in our latest contests and giveaways! Also, don't forget to check in with our Facebook fan page for exclusive content and get involved by leaving us comments on what you think!