Clay Long – The Best Putters You Haven't Heard Of
Who is Clay Long, and why haven't you heard of his putters? For starters, Mr. Long doesn't much advertise his putter designs. Designed for golf purists and enthusiasts that are serious about high-end putters that perform and feel great, only a select few dealers around the country get to sell his clubs. Fortunately for me, one of those shops is close-by in Orlando, and a number of years ago I stumbled on to his putters there and immediately had to have one. And then another, and then another. I now have three of his flat sticks and I love all of them.
Clay Long is one of the most experienced and well respected golf club designers in golf. He has been designing clubs for over 25 years, serving as the Vice president of Research and Development of Macgregor Golf Co., chief designer to Progroup and The Arnold Palmer Co., Vice President of Research and Development of Cobra Golf Co., Vice President of Golf Club Development for the Acushnet Co. In 1992 he founded his own company – Plus 2 International – and today is responsible for Nicklaus Golf Equipment and Jack Nicklaus's golf club designs.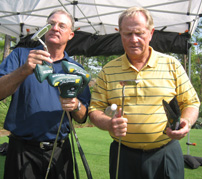 As chief designer for Arnold Palmer golf, Clay Long developed the PHD hosel weighted iron. This design was used by Arnold Palmer, Steve Stricker, and Tom Wargo. Wargo used the PHD to become the first player on the Champions Tour to win a million dollars in a single season. His hosel-weighed design was later licensed and used by Cobra Golf Co. in the King Cobra II irons and woods.
In 1997 Clay Long joined Cobra Golf as Vice President of R&D. Clay helped design the Gravity Back series of woods and irons along with a number of other products. He later served as Vice president of Golf Club Development in the Acushnet organization, working on titanium wood designs  until leaving in 2000 to restart Plus 2 International as an independent design house. Mr. Long owns no less than 26 golf related patents and is also a charter member of Golf Digest's Technical Advisory Panel.
Clay Long Personal Edition Putters
Clay Long's Personal Edition putters are some of the best looking and feeling putters I've ever rolled the ball with. Made in very small numbers and cherished by their owners, they are the pinnacle of putting tools. For years and years, Mr. Long has been the personal clubmaker for Jack Nicklaus. Many of his putter designs were created with Jack in mind, and have landed in the hands of a few lucky collectors like myself. Clay Long has recently released several new limited edition hand made putters. There are 13 models available in small numbers.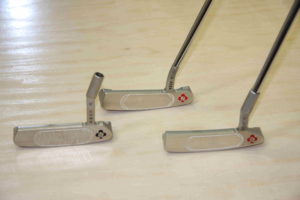 All three of the models that I own (D202.5, E203.11, A201.4) were made in the early 2000s and have Clay Long's unique raised center sighting feature. Rather than engraving or milling a sight line on the flange of the putter and filling with paint, Mr. Long came up with a design in which a raised bar of metal is milled into the design, giving the cavity of the putter a raised sight line feature that is unique to Clay Long putters. These early models were made in small batches of 10 putters and individually numbered. Two models (D202.5, E203.11) are made of 303 stainless steel and the third (A201.4) of mild carbon steel. The other unique feature of Clay's putters is the long barrel slant neck. The elongated shaft socket allows the putter shaft to penetrate deeper and puts the shaft in greater contact with the head, resulting in greater feel and less vibration. There really is a very solid, stable feel to these putters. The best way to describe it is to compare driving a German car vs. a Korean car. They just feel more solid and well put together. The ball pops off the face with a slight clicking noise that you would expect from a metal putter, and the feel is soft without being mushy. Feedback is instant and vibration is non-existent.
The curved top line of my D202.5 makes the putter look better at address, and the slight offset aids alignment. The E203.11 has less offset and the shaft goes over the hosel. The curved cavity gives the putter a clean look and thinner top line. The shaft connects to the head closer to the center of the putter than other models, reducing the toe hang of the putter. My A201.4 model putter is made of mild carbon steel and is heavier than the 303SS offerings. I was told the "I" marking below the hosel area denotes this putter as a heavier weight. The putter features a more traditional heel-toe cavity back design made famous by the Ping Anser. It has a longer slant neck and the unique long barrel hosel and raised sight line feature. The face area of these putters is outlined by an oval paint line and is milled flat. The classic "CL" cloverleaf logo is prominent on the heel of the club as well.
Clay Long doesn't offer his putters in large quantities or sell them in all the big box golf retail stores. In fact, his putters are hard to find. His designs are innovative, without losing that classic look and feel, and they are sure to stand the test of time. He has designed putters and golf clubs for some of the game's all time greats, and his famous MacGregor response putter design will go down as one of the most popular putters of all time. Nicklaus won the Masters in 1986 with it and as a result, MacGregor sold 350,000 units by 1987. In a putter market dominated by over-hyped , over-priced, so-called "custom" putters, Clay Long continues to make very high-quality, high-performance putters that look and perform beautifully. If you are a putter enthusiast and haven't seen his putters or had the pleasure of putting with them, you owe it to yourself to get your hands on one. You won't be disappointed!
Want to win free stuff? Subscribe to our email updates! You'll get the latest fresh news, reviews and stories delivered right to your inbox or RSS reader, and automatically be entered in our latest contests and giveaways! Also, don't forget to check in with our Facebook fan page for exclusive content and get involved by leaving us comments on what you think!