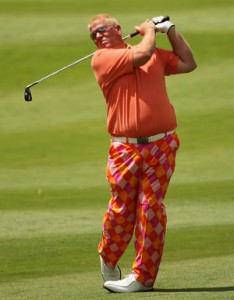 Fans in the United States haven't seen John Daly tee it up on the PGA Tour since October of 2008, when he missed the cut in Las Vegas. 10 days after that he was arrested for public intoxication in North Carolina outside a Hooters and spent the night in jail. He was suspended from the PGA Tour shortly after that and called it the low point in his career.
Long John has had many ups and downs since bursting onto the golf scene in 1991 with his improbable victory at the PGA Championship as the 9th alternate. He's been married 4 times, been to rehab twice, lost thousands gambling, played golf with no shirt or shoes in that now famous video, and so on and so forth. So, with a 6 month suspension in effect, Big John took his game quietly to Europe with he goal of playing his way back to the U.S.
Daly played this past week in Spain, finishing tied for 31st. He'll continue to play in Europe though May, hoping to play well enough to earn a few sponsors exemptions and will return to the PGA Tour on June 11 in Memphis. To that end, John Daly recently had lap band surgery, and combined with a 1200 calorie per day diet he has lost about 50 pounds. No more Hooters wings and beer for big-John it seems.
It also appears that John Daly is now color blind. His new clothing sponsor Loud Mouth Golf is outfitting him in pants that might scare off Rodney Dangerfield's wardrobe staff from Caddyshack! It just goes to show you, if you have game, you can wear anything. John has always had a knack for making a statement, and so his new duds seem to be a perfect fit. The colors and patterns are loud and obnoxious, much like the fans that follow Big John everywhere he goes. Check them out here – www.loudmouthgolf.com
It seems that getting away from America for a while has done John a lot of good. His access to Hooters, Burger King and the like is severely limited in Europe, while the more active and healthy lifestyle many Europeans lead seems to be rubbing off. The European Tour has more of a family feel and he is likely to have plenty of support amongst his fellow competitors. While his golf game may still be a work in progress, (rumor has it he has hooked up with former Mickelson swing guru Rick Smith) his new wardrobe may be a sign that John is starting to feel more comfortable in his own skin again. That's a good thing for Daly, and an even better thing for his fans.