7 Golf Accessories You Can't Live Without
2020 hasn't been the best year for humans so far, with the COVID-19 pandemic throwing our daily lives into a tailspin. Fortunately, summer is almost here and golf is starting to get going again. Let's face it – The golf course is arguably a safer place than a grocery store these days! In the US, over 97% of golf courses are open, so it's time to get ready for summer and grab some of the hottest accessories available.
Bushnell Pro XE
For years Bushnell has made some of the very best laser rangefinders in golf, and the new Pro XE rangefinder is no exception. Packed with cool features and innovative technology, Bushnell's flagship Pro XE model (pictured above) includes Slope with Elements which adds temperature and barometric pressure to the slope technology to provide accurate, compensated distances. The BITE magnetic cart mount is a welcome new feature as well. Available direct at bushnellgolf.com
Bushnell Wingman GPS Speaker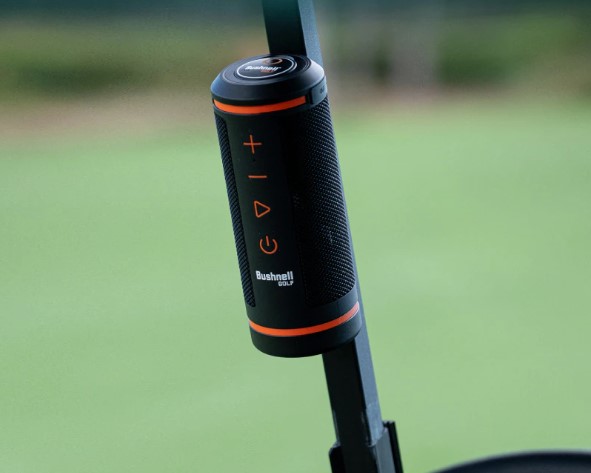 Like it or not, playing music on the golf course is here to stay. Streaming music services and bluetooth speakers are everywhere, so it's only logical that the casual weekend golfer would want to play music on the course while they play. I'm not interested in talking about the why, but the how. To that end, the hottest new speaker for golf is the Bushnell Wingman. Not only does it sound great, but it has a powerful magnetic mount and a built-in GPS remote that speaks front, middle & back distances from over 36,000 courses worldwide using the Bushnell Golf App on your phone. Available direct from bushnellgolf.com.
Flightscope MEVO
Launch Monitors – Most of the world's best players have them, why don't you? Well, for starters they cost as much as a nice car. Until now that is. Flightscope has taken some of their industry leading Doppler radar technology and shrunk it down to a pocket-sized personal launch monitor that everyone can afford. The Flightscope MEVO costs only $499 and measures 8 performance data parameters like carry distance, club head speed, smash factor, apex height, flight time, ball speed, spin rate and launch angle. I use mine all the time. It's invaluable for testing clubs and measuring my swing performance. https://www.flightscopemevo.com/
Golflogix Green Books
If you watch the pros play on TV, you'll notice they are always looking at their yardage books, especially around the greens. For years they have had access to professional green books that detail all the slopes, humps and bumps on the greens of the course they are playing. Wouldn't it be nice to have access to that kind of information for your home course? Now you can! One of the leading golf GPS apps – GolfLogix – is now taking their industry leading digital Putt Breaks technology and offering it in highly detailed, full color green books complete with heat maps. More than 14,000 courses have already been detailed, with more to come! To check for your home course, just go here: https://store.golflogix.com/
Tanto Ball Mark Repair Tools
I don't know about you, but I struggle with ball mark repair tools. I love the switchblade style, but I can't seem to keep them in good working order. For some reason they are always breaking. I use this style of divot repair tool because it won't poke me in the leg or tear a hole in my shorts, but the spring loaded mechanism never lasts very long. But now there's Tanto USA with their overengineered divot tools! Their stainless steel bladed, titanium powder coated tools are heavy and solid, like an expensive pocket knife. I'm looking forward to many years of repairing ball marks with this tool. To get yours, just visit: https://www.tantousa.com/
Tattoo Golf Apparel
Tattoo Golf has been one of my favorite golf apparel brands for years. You may not have heard of them until now, but you'll be glad you did. Their youthful designs are colorful and fun, and the modern technical fabrics perform well even in the humidity of a hot Florida summer. While many of their designs feature a variation of their ubiquitous skull and "crossclubs" logo, you can also get golf shirts with cool Hawaiian style floral patterns. They make shirts, shorts, pants, hats and accessories for men and women and run frequent sales through their website where you can save up to 20% or more. Check them out today at https://www.tattoogolf.com/
Walker Trolleys
While some of us have used golf as a form of therapy through all this COVID-19 business, in an effort to practice social distancing many golf courses have adopted a single rider per cart policy or encouraged walking the course. The physiological benefits of walking on the golf course are well known and cannot be understated, so it's no surprise that the golf push cart market has blown up recently! For those that demand quality craftsmanship in a classic design with some modern engineering and materials, Walker Trolley's Cape Model premium golf push cart might be right what the doctor ordered. Made with anodized aluminum, waxed canvas and and leather, Walker Trolleys have built a sturdy, functional push cart that seems to be imported from a bygone era where walking was the only option. To get one of your own, pre-orders are being accepted now: https://walkertrolleys.com/products/walker-trolley