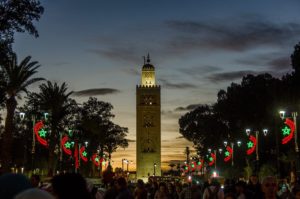 Here in the western hemisphere, Morocco is not a country that most people would have on their short list as a potential overseas vacation destination. You don't have to have a degree political science to understand why many American tourists tend to avoid Islamic nations like Morocco. It's unfortunate because there's no reason for anyone to feel apprehensive about visiting.
The North African nation is a magical place with incredible history, friendly people, great weather, modern infrastructure, wonderful food and plenty of top notch golf for a price that will leave you wondering why you didn't hear about it before.
Interesting Fact: Morocco was the first country in the world to recognize US sovereignty, in 1777.
Morocco has long been a favorite destination for European vacationers. Flights from major airports like London, Paris and Frankfurt take less than four hours, and the euro trades at better than 10 to 1 with the Moroccan diram. Tourists from Canada and the United States are not as familiar with Morocco, but are starting to discover what it has to offer, especially when it comes to golf. While 60% of Morocco's tourists visit for its culture and heritage, it is quickly establishing a reputation as a top golf destination also.
Several stops on the European Tour's Race to Dubai and the Ladies European Tour (LET) schedule take place in Morocco every year. The reformist King Mohammed VI has been very supportive of golf, and in 2010 the government launched a program called "Vision 2020" focused on the development of tourism, with the goal of doubling international visits to over 20 million annually by the year 2020.
Morocco's unique culture is a blend of Arab, Berber, African and European influences. Arabic and French are widely spoken, and many people speak at least basic English in the major cities. The capital is Rabat, and Casablanca is the largest city with a population of around 3.3 million people. The cultural center of Morocco may well be Marrakesh, which lies near the northern foothills of the Atlas Mountains. The city dates back to the year 1062, but Berber farmers have inhabited the area since Neolithic times which began around 10,000 BC. The old town area of Marrakesh was named a UNESCO World Heritage Site in 1985 and continues to thrive as a popular tourism hub.
My visit was sponsored by the Moroccan National Tourist Office and our itinerary took us all around the country on a whirlwind five day tour of ancient cultural centers and modern five-star golf resorts. In fact, we played four of the country's top five golf courses according to one list. We also stayed in large modern resorts and small boutique hotels and ate at upscale urban bistros and rustic roadside cafes to get a truly authentic experience. 
In the coming days, I'll be posting several follow-up articles chronicling our journey around the country in more detail. Stay tuned!