Club Review – Cleveland CG7 Black Pearl Irons
Since 1979 when Cleveland Golf was founded, they have made quality golf clubs. Like many golf equipment manufacturers they have had their ups and downs. There is a lot of competition out there, with the huge marketing machines of Taylor Made and Callaway stealing the show. Cleveland has been through thick and thin and has maintained a solid market share in this hugely competitive market. Cleveland is largely known for it's wedges, and with the introduction of it's newest model – The CG15 – they are poised to regain a bigger piece of the pie in 2010. They are also introducing a new line of drivers and fairways called the Launcher DST, which we'll review very soon right here. The irons remain much the same, but they have created a new club from a popular design that I think will do very well, and they are called the CG7 Black Pearl irons. I wrote a preview article about these in September, and we were very eager to try them out! Let's take a closer look at these clubs and what they have to offer.
Appearance
Cleveland's CG series irons are not new. In fact they have been around since May of 2007. The CD Gold and CG Red irons are still in use on the professional tours also. Next came the CG7 and CG7 Tour irons, which are also widely used on the pro tours, and finally we have the new CG7 Black Pearl (BP) and CG7 Tour Black Pearl irons. The new BP irons look similar to last year's CG7 irons, with similar basic shape and graphics. The biggest difference is obviously the new Black Pearl finish. The matte black finish looks a lot like the gunmetal finish that was available in previous Cleveland clubs. They also feature Cleveland's new Laser Milled face texture that increases surface roughness to maximize spin, along with the already popular Zip grooves. There is a lot going on in the cavity of the CG7s. Crammed in there is a one piece injection molded visco-elastic insert that covers the entire perimeter of the cavity and the base of the head. This insert provides vibration dampening across the entire face for superior feel, even on off center hits, according to Cleveland. All of this, combined with the heel and toe weighting provides for a pretty forgiving iron that looks very sharp as evidenced by several double-takes from interested observers as we tested these on the range at LPGA International in Daytona Beach, Florida.
Performance
The CG7 line of clubs are firmly placed in the middle of Cleveland's lineup. For the ultimate in game improvement for high handicap players, they offer the HiBore XLi and launcher Irons. For the traditionalist and/or better players, they have the CG Tour forged blades, and for everyone in between, they now have the CG7, CG7 tour, CG7 BP and CG7 Tour BP irons. Given their position in the lineup, they should appeal to a wide range of players from scratch golfers to mid handicaps. The CG7 BP irons have more offset and stronger lofts than the CG7 Tour BPs. The difference doesn't seem like much – the PW is 45 vs. 46 degrees, and the 5 iron offset goes from .180″ to .135″ – but it makes a big difference. Most lid to low handicap golfers will prefer the Tour version that has less offset and weaker lofts. Even with a 46 degree pitching wedge, many players will have to carry a gap wedge to bridge the difference in loft from PW to SW.
My test set of CG7 Tour Black Pearls came with the venerable Dynamic Gold shaft and Cleveland grip. I warmed up with my own clubs first and then grabbed the CG7 BPs. My first impression was that they sat nice and square and were easy to line up. The contrast of the white scoring lines against the black finish may be a distraction to some, but I didn't mind it. The feel of these clubs was a surprise. They feel softer than I would have imagined for a cast cavity back iron. This may be due to the visco-elastic insert, dampening the feel and sound of impact. As I continued to hit balls, I found it rather easy to shape shots and hit knockdowns and punches. These clubs perform at a very high level! The feel is very muted and softer than expected, and the forgiveness is about where I expected. They will moderately help a mis-hit shot, but you'll know you miss hit it. As far as performance goes, they were very similar to my Srixon i701 Tour Forged irons, and I think I could adjust to these in just a few rounds.
As with all new clubs, the new finish starts to wear immediately, and the sandy turf in Florida certainly expedites this process. After several hits, the face of the clubs show scratches and wear to the micro grooves. With the shorter clubs especially, the Zip grooves will scuff a new golf ball that is trapped aggressively against the turf. Out of the rough the deep and sharp Zip grooves provide spin, and the rounded shape and compact club head helps them slide through tall grass better than most. Just to avoid confusion, these clubs conform to the current USGA groove specifications for amateur golfers. They do not conform to the PGA Tour condition of competition that goes into effect Jan 1, 2010. For more info on the new groove regulations, read my explination of the new rule here.
Specs and Options
The CG7 BPs come with several different shatf offerings. In steel the standard offering is called the flightspeed shaft, but you will probably want to chose one of the custom shafts. You have the choice between the Dynamic Gold, DG Lite, DG Sensicore, Dynamic Gold SL, Project X, Rifle Flighted and Rifle shafts. In graphite, you have a choice between a standard Cleveland branded shaft or offerings from Aldila and Grafalloy. I've never been a fan of "stock" shafts, as I feel these are mass produced with lower quality standards than the custom option shafts. As always, I highly encourage getting properly fitted for your new irons also. It's just a smart thing to do and helps you make the most of your investment.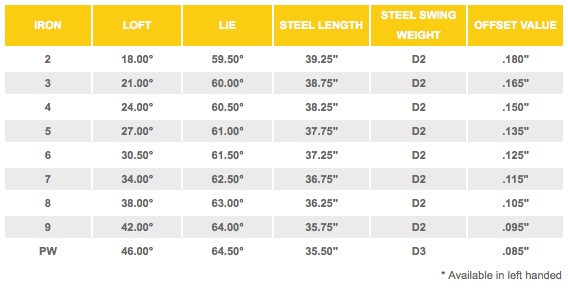 With Cleveland Golf, it's important to note that they have a great promotion going on for the remainder of 2009. If you purchase a set of in-line Cleveland Golf Irons in 2009, you will be eligible to trade in your set for any of the new models of equal or lesser value  introduced from January 2010 to December 2011 at no charge. All you have to do is buy your set at an authorized Cleveland Golf dealer and register your purchase at this website. It may sound too good to be true, but it's not. If you are tempted to make a purchase, you can use our affiliate link to get free ground shipping on any orders over $75…
Overall Impressions
I think Cleveland golf has another winner on their hands with the CG7 Black Pearl irons. Matched with the hot new CG15 wedges, they will make a great addition to anyone's bag. They are forgiving without sacrificing feedback, and feel almost like a forged club. They look really sharp, and everyone we showed them to liked them at first glance.
Pros: Good feedback with forgivness, Solid muted feel, good spin potential, sharp looks
Cons: Stock "flightspeed" shaft, opt for a custom shaft. dark finish shows wear faster than chrome clubs
For more info and the latest articles and stories, subscribe to our RSS feed and email updates!